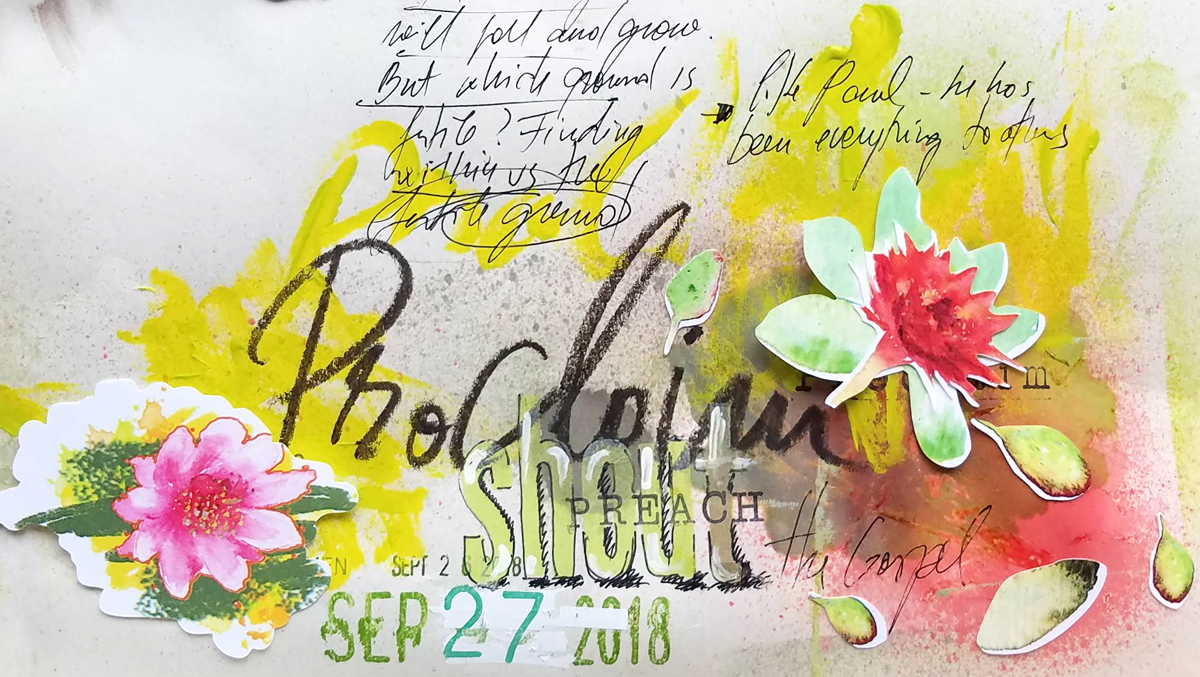 My artwork has been always inspired by Christian philosophy and Byzantine art. When I first discovered Bible Journaling it went straight to my core and for months this was the only art I was inspired and moved to do. It truly spoke straight to my heart and my heart could speak out loud through this medium: the joy, the draw to praise unceasingly God's amazing work, the struggles and needed reminders of God's love... His Word is truly alive and I can feel it at work every time I handle His word through bible journaling. The approach, through visual elements, and the required pondering over the words of the bible, in order to illustrate it, along with the intimate aspect of journaling drive me deeper into understanding and absorb on multiple levels His word.
Bible Journaling is a beautiful, meditative technique which very strongly resembles "Lectio Divina"
Lectio Divina, translates as Divine Reading and it is a big part of monastic spirituality that was developed through centuries. Through Bible Journaling and divine reading we develop a Sacred Space and Time, where God is speaking to our heart.
It is a traditional Benedictine practice of scriptural reading, meditation and prayer intended to promote communion with God and to increase the knowledge of God's Word. It does not treat Scripture as texts to be studied, but as the Living Word. Bible Journaling practically follows the same steps as Lectio Divina:
1. The first stage is lectio (reading) where we read the Word of God, slowly and reflectively so that it sinks into us. Any passage of Scripture can be used for this way of prayer but the passage should not be too long.
2. The second stage is meditatio (reflection) where we think about the text we have chosen and ruminate upon it so that we take from it what God wants to give us. You will probably read it again and trying to visualize it. You can also try to not assign menaing but wait for the action of the Holy Spirit to illuminate the mind.
3. The third stage is oratio (response/prayer) where we leave our thinking aside and simply let our hearts speak to God. This response is inspired by our reflection on the Word of God. The response in this case is art and illustration, as well as journaling and prayer. We can ask God for the grace to be changed by what we have read and apply the meaning of the scripture to our lives.
4. The final stage of Lectio Divina is contemplatio (rest) , which seems to extend beyond the Journaling session - We simply rest in the Word of God. We listen at the deepest level of our being to God who speaks within us with a still small voice. As we listen, we are gradually transformed from within - I find that throughout the day my thoughts naturally go back over and over the journaled scripture therefore i can rest in this amazing living word of God even when I'm not actively journaling.
Starting Prayer:
"The Word of God be ever in my mind, proclaimed by my lips and pierce my heart, leading me to deeper communion with you, Jesus"
or
"Come Holy Spirit, Open my Heart and mind for the Word of God"
Some of the information source and more regarding Lectio Divina can be found http://ocarm.org/en/content/lectio/what-lectio-divina